Seminar hotel Austria:


Meetings and seminars – Hotel of Happiness
Family seminar hotel with "happiness" moment
As a family-run generation business, the seminar hotel"Hotel des Glücks" in the southern Waldviertel is not only a popular vacation destination for vacationers, but for more than 30 years has been above all one thing: the ideal place for successful seminars and conferences. Away from the hustle and bustle of everyday life, guests at the seminar hotel are welcomed by a pleasant atmosphere and personal service. Set in the rolling hills of the southern Waldviertel region and overlooking Austria's breathtaking mountain scenery, the hotel offers an inspiring environment for seminars and conferences of all kinds: from top management meetings to alternative drumming workshops.
Alexander Gerner (Grinberg Methode)
20. Juli, 2023
Das Hotel zum Glück - dazu kann man nur sagen der Name ist Programm. Das Hotel liegt sehr idyllisch eingebettet. Als Seminargast fühlt man sich rund um wohl. Schon die Atmosphäre beim Ankommen lässt einem den Alltagsstress vergessen. Die Ruhe und Stille ermöglicht es ungestört zu arbeiten (Weiterbildungsseminare) oder die Seele einfach baumeln zu lassen und Kraft zu tanken. Das Personal ist freundlich, angenehm und bedacht einem den Aufenthalt so angenehm wie möglich zu gestalten. So auch hier nochmals recht herzlichen Dank. So jeder der Ruhe, Stille sucht ist hier top aufgehoben. Auch als Seminarveranstalter, der schon einige Seminarhotels besucht hat kann ich dieses jedem vorbehaltlos empfehlen.
Johannes Leonhartsberger
1. November, 2022
Bestens wie immer!
Walter Laschober
30. Oktober, 2022
Entspannend
Hannelore Ucik
12. September, 2022
Sehr schöne Zimmer, sehr gutes Essen, super Service, sehr freundlich. Wir verbrachten ein schönes, angenehmes Wochenende.
Seminar and meeting rooms with the most modern equipment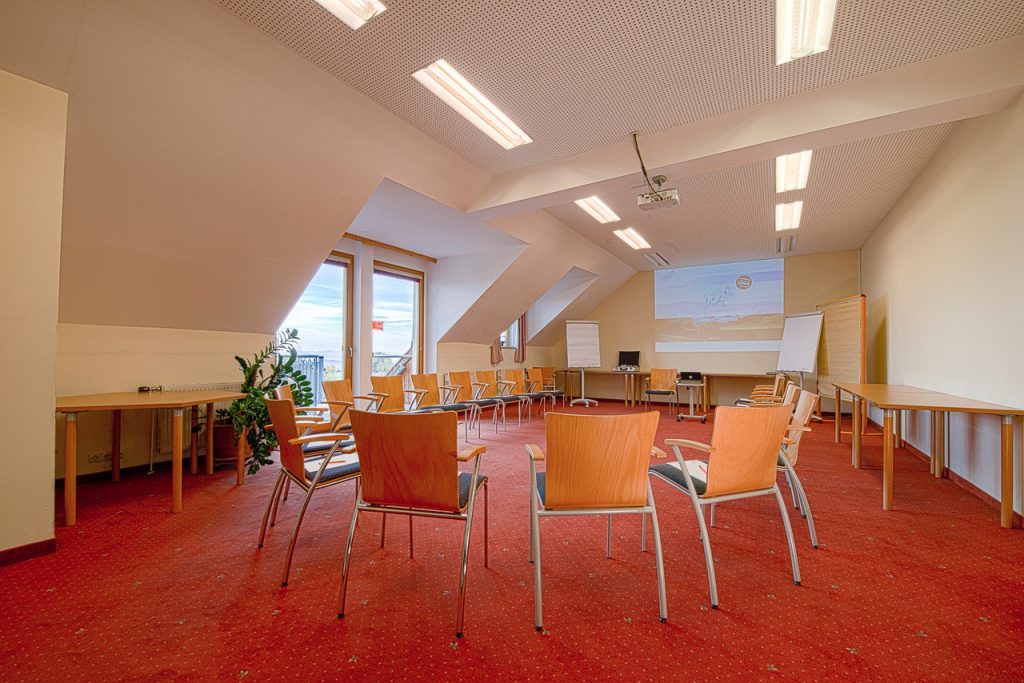 Through decades of experience and development, the Hotel des Glücks has become one of the best conference hotels in Austria to date, which above all always meets the individual needs and requirements of its guests. The rooms equipped with the latest technology and the professionally trained service team ensure that seminars and meetings run smoothly – from planning to implementation. In addition to the modern conference facilities, comfortable feel-good rooms and suites, guests can enjoy the in-house swimming pool, which provides relaxation and refreshment after a long day at the seminar or workshop.
Seminar happiness: your hotel for meetings with well-being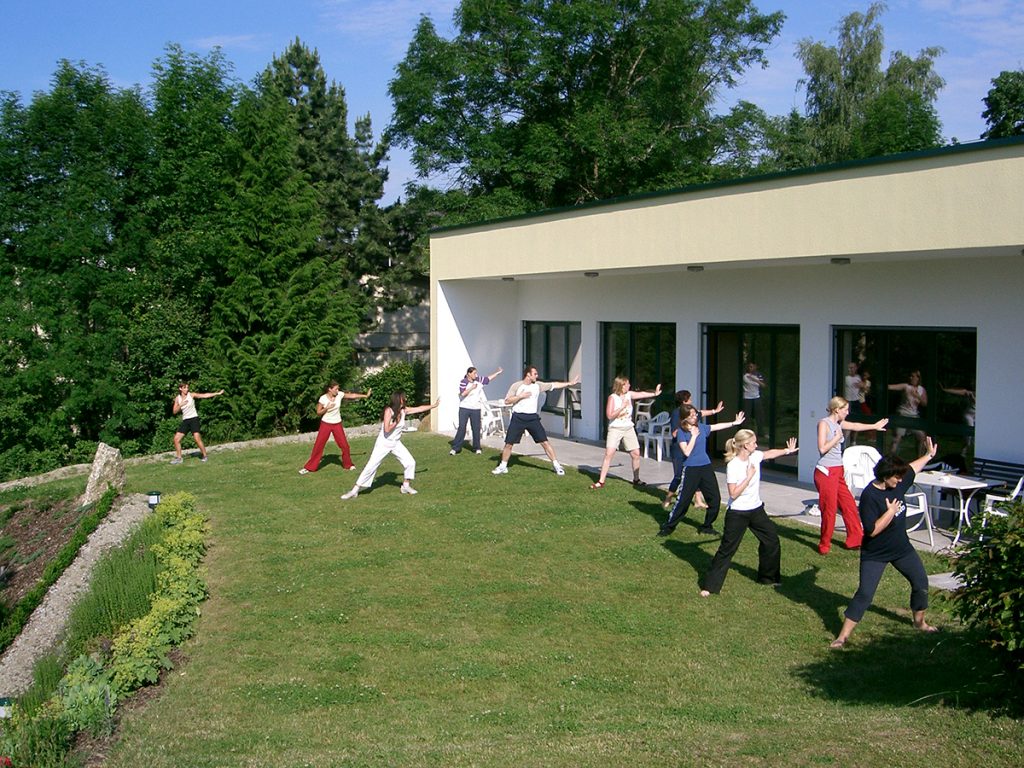 The entire Hotel des Glücks team attaches great importance to the well-being of its guests. "Bringing happiness" is thus clearly at the heart of everything we do. In addition to seminar clients, families and individual guests are also warmly welcomed and can enjoy the special features of the house and the surrounding area. The spacious garden with its exciting "happiness stations" invites you to discover and offers a relaxing atmosphere for every guest. The hotel also features a newly refurbished breakfast room and elegant lounge area, ideal for relaxing breaks and informal exchanges during meetings.
Our hotel – your seminar
… on the pulse of time
For 30 years now, we have been the first port of call for seminars and conferences in the region. Our premises offer you a wide range of possibilities for successful events. With a total of four top-equipped seminar rooms, covering an area of 35 to 140m2, you will find enough space for your individual needs. A special highlight is the direct access to the outdoors from all seminar rooms. So you can hold your seminars in the green and take advantage of the inspiring atmosphere of our "happiness garden".
In premises we have technically integrated everything to support our guests at their events. All seminar rooms are equipped with air conditioning, a high-quality sound system, a beamer and high-speed internet via WLAN. Of course, our seminar package includes flipcharts with sufficient paper and pens, pads and pens as well as pin boards. Upon request, we will be happy to provide you with additional presentation cases, a mobile projection screen, copy service or a lectern.
At Hotel des Glücks we take care of every detail to ensure that your seminars and meetings run smoothly. Feel free to contact us for more information or to make a booking. We look forward to providing you with an inspiring and enjoyable venue that will make you and your participants feel happy.
Seminar hotel prices:
Our seminar packages
€+61,-+/+€+53,94+net
Daily+ratevalid+for+seminars+2024
Use+of+the+seminar+room
Fruit+basket+all+day+(break+zone)
2+breaks+with+fruit+or+fruit+cocktail,+homemade+pastries,+on+request+rolls,+muesli+bars+as+well+as+yogurt,+coffee,+tea,+vitamin-rich+break+drinks
Lunch+three+courses,+choice
Salad+buffet
Writing+set+(pad+and+ballpoint+pen)
€+161,-+/+€+145,57+net
Seminar+full+boardvalid+for+seminars+2024
As+per+diem,+additionally+with:
Dinner+three+courses,+choice
Salad+buffet
Overnight+stay+in+a+single+room
Vitality+breakfast+buffet
Fruit+basket+all+day+(break+zone)
Use+of+our+wellness+oasis
Room and overnight stay in the conference hotel in Lower Austria:
Arrive and feel good
Immerse yourself in a world of comfort in the southern Waldviertel. Our rooms are all equipped with modern bathrooms and offer you WC, shower, hairdryer, telephone and TV. Most of our rooms also have a balcony or terrace, giving you a breathtaking view of the picturesque Austrian mountain panorama from the Ötscher to the Dachstein.
In addition, we have two suites on offer, consisting of a living room, a separate bedroom and bathroom. Our suites are perfect for special occasions or for those who would like a little more space and privacy. To make your stay at the Hotel des Glücks an unforgettable experience, we have put together various packages, including the Romantic Package, the Time Out Package and many more. We will be happy to take care of preparing your room accordingly. When booking, our staff is always available to provide more information and answer your questions. We look forward to welcoming you to the Hotel of Happiness and providing you with an unforgettable stay.
Your free time in the seminar hotel – recharge your batteries in the greenery
Discover the many possibilities for leisure activities around our house. The Hotel of Happiness is located in the middle of an area that offers a wealth of special places of power. Explore the numerous marked hiking trails to historically interesting cult sites such as the Herzstein, Wackelstein, Blutschüssel, Burgsteinmauer, Totenkopfstein or to the Steinernen Kornmandln. In summer you can refresh yourself in our pool or relax in the bathing pond, while in winter cross-country ski trails and our cozy alpine hut with a crackling fireplace await you.
In short, we have something for every taste. Whether as a participant of a seminar or a conference or as a vacation guest. Enjoy a game of tennis or play beach volleyball. If you are looking for some variety, there is an indoor adventure pool just 4 km away. For those who want to improve their archery skills, there are two exciting archery courses at a distance of 7 and 11 km. A fitness course, a new stick shooting track, mountain bike trails and even a climbing hall (only 4 km away) are also at your disposal. Whether you want to engage in sports or simply enjoy nature, at the Hotel des Glücks you will find numerous opportunities to make your free time varied and entertaining. Look forward to unforgettable moments in the midst of nature!
Regional gourmet cuisine – because love goes through the stomach
Our chef has perfected his culinary art at various professional stations throughout Europe and most recently in Switzerland. Now he is with us to conjure up happiness on the plates of our guests. We know that especially in seminars the accompanying culinary is a great motivation and therefore success factor. That is why we attach great importance to a rich and creative gourmet cuisine. For us, it is a matter of course to rely on regional supply chains. We attach great importance to processing almost exclusively products that grow in the fields in the region.
Tastes are different. That's why we focus on diversity: With us, everyone gets their money's worth, regardless of whether you're a vegan, vegetarian or meat enthusiast. And for seminar groups who would like to get hands-on, we offer the possibility of team cooking in our modern equipped hotel kitchen. Here you can get creative together and prove your cooking skills.
We cordially invite you to experience the culinary highlights at the Hotel des Glücks and to be pampered by our passionate kitchen team. Immerse yourself in the delicious world of regional and creative cuisine, where happiness is served on every plate.
Request individual offer now
If you would like even more information, including prices and further details, we recommend you take a look at our 2024 seminar folder. You can easily download the seminar folder here on our website or contact our team, who will be happy to assist you in a personal meeting.
We look forward to welcoming you to the Hotel of Happiness and providing you with an unforgettable experience!